Motorbike Traffic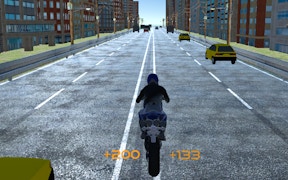 Motorbike Traffic
If you've been scouring the internet for driving games that capture the thrill and exhilaration of baring down a bustling highway, your search might just be over. Motorbike Traffic, an exciting addition to the genre of motorcycle games, is sure to rev up your engines and skyrocket your adrenaline levels.
This game isn't just about speed; it's a testament to the genre of skill games. The challenge lies not only in manoeuvring your motorbike amidst heavy traffic, but also in mastering control at breakneck speeds. With three amazing motorbikes to choose from, each game feels fresh and thrilling as you find yourself coming back for more.
The four different game modes take the excitement up several notches. From dodging oncoming vehicles at full throttle, to navigating tight corners with precision, each mode presents its unique set of challenges that will test your skills and reflexes. It's not just about driving; it's about owning the road with style and flair!
While Motorbike Traffic could easily slide into most collections of stellar car games, it stands out because of its focus on high-speed motorcycle racing. The graphics are appealingly realistic, adding immensely to your immersive experience. The roar of the engine, the flurry of passing scenery and the unpredictable traffic create a pulsating atmosphere that keeps you on the edge of your seat.
In conclusion, if you're looking for an action-packed journey that merges the thrill of racing, strategy and skill involved in other driving or skill-based games - look no further than Motorbike Traffic. Your quest for engaging motorcycle games might truly end here!
What are the best online games?