Motocross Zombie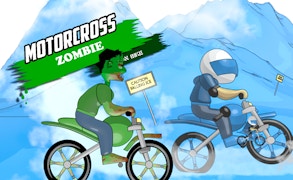 Motocross Zombie
Description
In the thrilling Motocross Zombie, you will enter a nightmare-fuelled race for survival where the only thing standing between you and a horde of undead is your trusty motorcycle. This adrenaline-pumping, horrifying game mixes high-speed chases with acrobatic stunts mid-air, offering an intense gaming experience that pairs racing with surviving.
How to play
On mobile, use the left and right buttons to control your bike's rotation in mid-air, and the left button to speed up. For PC, utilize the up arrow on your keyboard for acceleration and the left and right arrows to rotate your bike in mid-air. The goal is to outpace and outmaneuver the looming zombie threat while avoiding obstacles.
Tips and Tricks
Skillful use of your rotation controls can make a significant difference in escaping from zombies. Prompt application of acceleration, coupled with timely rotations, can help avoid deadly crashes. Also keep an eye out for power-ups that may give you a temporary advantage over the relentless undead.
Features
Terrifying Zombie Chase: Enjoy heart-stopping thrill rides as you dodge hordes of zombies.
Versatile Controls: Smoothly switch between mobile and PC without compromising on gameplay.
Fear-Inducing Atmosphere: The game's horror setting heightens immersion and tension throughout the race.
Arcade-like Physics: Perform gravity-defying bike stunts as you tear through post-apocalyptic landscapes.
What are the best online games?