MotoBike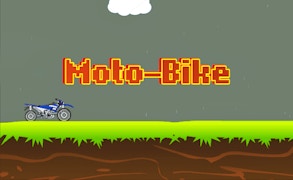 MotoBike
Description
In MotoBike, you embark on an exciting journey racing through both urban landscapes and untouched natural environments. The challenge of the game lies not only in speed but also in skillful handling of your motorcycle across different terrains. Master the balance of your bike and outpace your rivals to ensure you make it to the finish line without a single flip!
How to play
Control your motorcycle with simple keyboard controls: use the up key for acceleration, down key for deceleration, and left/right keys to balance or take turns. Master these controls to navigate through the challenging courses and avoid rolling over. Progress further in the game by completing each course while maintaining balance and speed.
Tips and Tricks
In MotoBike, maintaining your bike's balance is just as crucial as speed. Be aware of upcoming obstacles or slopes - slow down or accelerate as needed. Remember, flipping over means game over - so prioritize stability over speed when necessary!
Features
Race through diverse terrains including cities and natural steppes.
Skill-based platforming challenges.
Easy-to-learn controls with depth, offering plenty of room for skill mastery.
Fierce competition against CPU racers.
What are the best online games?