Moto Bike Attack Race Master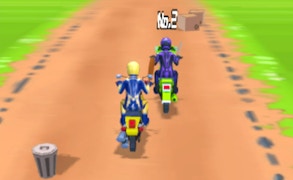 Moto Bike Attack Race Master
Enter the high-octane, adrenaline-fueled world of Moto Bike Attack Race Master, a spectacular entry in the realm of driving games. This isn't your ordinary motorcycle game; this is a whole different beast. It combines the thrill of high-speed racing with the ferociousness of battle games. If you have been on the hunt for motorcycle games that push the limits, your search ends here.
The moment you mount your bike and hit the accelerator, you'll know this isn't just another one in the long list of typical skill games. The 3D game art animation leaps off the screen, immersing you in an environment where speed and violence dance together in a ballet of chaos. You're not just racing against others; you're battling for survival.
In Moto Bike Attack Race Master, your bike is more than just a tool for racing. It's also your weapon. You are permitted to pick up arms and use them to dismount other racers from their bikes on the truck. If you enjoy battle games that test not only your speed but also your tactical prowess, then Moto Bike Attack Race Master will surely get your heart racing.
Why tread lightly when you can roar on full throttle? In this arena, only those with innate skill and unyielding determination can emerge as true masters. So why not get on the bike and pick a fight? Fast. Fierce. Unforgiving. If these words ignite a spark in you, then Moto Bike Attack Race Master is sure to set your gaming world on fire.
This gritty mix of driving and combat offers an exhilarating experience that few other motorcycle games can provide. If action-packed skill games are what you crave for, then certainly Moto Bike Attack Race Master deserves a spot in your collection.
What are the best online games?