Mortal Cage Fighter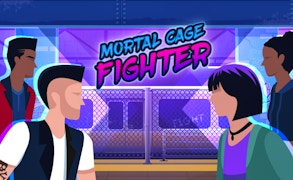 Mortal Cage Fighter
Step into the savage world of Mortal Cage Fighter, where every punch, kick, and special ability could determine your fate. If you're a fan of exhilarating boxing games that require quick reflexes and strategic planning, then Mortal Cage Fighter will quench your thirst for adrenaline-pumping action.
Set in the gritty streets, this game brings a unique twist to traditional fighting games. The simple yet engaging combat system allows you to attack with punches and kicks, block incoming strikes by moving backwards, and even perform a surprising jump-over attack on unsuspecting opponents. It's survival of the fittest in this unforgiving urban jungle.
The best part? Each character brings their own unique special abilities into the fray. Once your power bar is full, you're granted the opportunity to shift the tide of battle by executing these special moves. This isn't just a test of strength—it's a test of strategy.
Fights are determined in a 'Best out of 3' rounds setup, ensuring each match is suspense-filled till the very end. Only those who can adapt quickly and master their fighters' unique skills can claim victory and be titled the king of fighters.
If any gamer has ever yearned to feel the heart-pounding thrill that comes with cage fighting without leaving home, Mortal Cage Fighter promises to deliver that genuine excitement directly to your screen. So lace up your virtual gloves, step into the ring if you dare, and see if you have what it takes to reign supreme.
What are the best online games?
TAGS