Monster Match Mania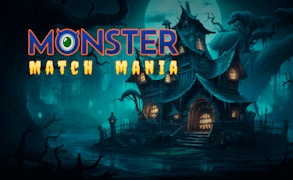 Monster Match Mania
Unleash your puzzle-solving prowess and dive into the thrilling world of Monster Match Mania, a gripping title in the monster-games genre aimed at tickling your grey matter. This game takes the traditional match-3-games mechanics and adds a hair-raising twist with zany monsters that promise relentless entertainment.
The crux of Monster Match Mania is deceptively simple: match three or more monsters of the same color to eliminate them, scoring points and progressing through the ranks. However, don't let its simplicity fool you. The levels are crafted to challenge your strategic skills and quick thinking, ensuring each stage is a unique experience.
The exquisite graphics amplify the monstrous theme, making it exceptionally immersive. From fire-breathing dragons to adorable cyclops, every monster is designed with striking attention to detail. Consequently, not only does it test your puzzle-solving skills but also treats your senses with delightful visuals.
The dynamic difficulty range ensures that it caters to everyone from casual gamers looking for an exciting pastime to hardcore puzzle enthusiasts seeking a formidable challenge. The easy-to-understand mechanics make it incredibly accessible while its complex layers offer depth that will keep you engrossed for hours on end.
Another standout feature of Monster Match Mania is its fantastic replayability factor. The randomly generated levels mean no two rounds are ever the same, providing fresh challenges every time you play.
To sum up, Monster Match Mania successfully marries the captivating world of monster-games with thought-provoking match-3-games mechanics. It's a must-play game for all puzzle-lovers out there, ready to embark on an exciting journey filled with monstrous fun!
What are the best online games?