Mini Stilts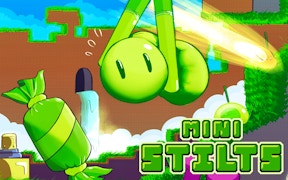 Mini Stilts
Immerse yourself in the captivating world of Mini Stilts, a charming addition to the realm of retro-style arcade games. Expertly combining traditional 2D gameplay with contemporary mechanics, Mini Stilts is a delicious blend of old-school nostalgia and innovative entertainment. It's no wonder gamers across the globe are succumbing to the irresistible allure of this pixel-powered gem.
The premise is as tantalizingly simple as it is addictively compelling. You'll step into the shoes (or rather, stilts) of a lovable blob character whose singular mission in life is to reach his ultimate goal - a scrumptious piece of candy. But don't be fooled: Mini Stilts isn't just another walk-in-the-park arcade game. It's an adrenaline-fueled, skill-testing escapade that will keep you on your toes (stilts) right up until the final stage.
Dodging enemies and surpassing obstacles, you will maneuver your blob using his stilts, testing your reflexes and decision-making skills at every twist and turn. The gameplay in Mini Stilts strikes a harmonious balance between challenging and accessible - never has guiding a candy-hungry blob been so engrossing!
This game masterfully revives the characteristic charm of pixel games, paying homage to many beloved classics while carving out a unique identity for itself in the competitive retro-gaming market. The minimalist pixel art works harmoniously with background music that strikes just the right chord between nostalgic and contemporary.
Mini Stilts is more than just an arcade game; it's proof that sometimes, simplicity trumps complexity. It's an ode to all things retro, a skill-based adventure that demands attention, precision, and persistence. Dive into Mini Stilts now - let this topnotch retro-inspired experience add some pixel-perfect fun to your gaming repertoire!
What are the best online games?