Mini Huggy - 2 Players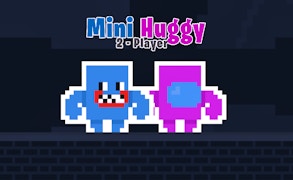 Mini Huggy - 2 Players
Description
Step into a delightful, competitive world of fluffs in Mini Huggy - 2 Players. This arcade game is all about speed, agility, and cut-throat competition between two players. The objective is simple yet challenging - be the first to reach the finish line. With colorful visuals and engaging dynamics, this is nothing short of a fun-packed, adorable race!
How to Play
The game controls are quite straightforward. Use the arrow keys or WASD controls, depending on your side of the board. To navigate your huggy avatar, use the up key (W) to jump and the right(left) key (A or D) to move forward (or backward). Strategize your moves, dodge obstacles and sprint all the way to the finish line.
Tips and Tricks
Maintain a balance between speed and control to avoid losing ground. Don't miss out on any treasures along your running pathway as they can provide you with extra boosters. Keep an eye out for traps or obstacles, as hitting them slows you down. Stay on your toes!
Features
The key features of Mini Huggy - 2 Players include:
A two-player competitive mode that enhances engagement and interaction.
User-friendly controls that are easy to master.
A vibrant interface with colorful visuals.
A multitude of exciting levels for never ending fun.
What are the best online games?
Tags