Mini Goalkeeper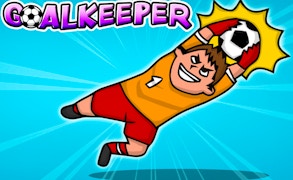 Mini Goalkeeper
Description
In the exhilarating game of Mini Goalkeeper, you don the gloves of a super soccer goalie, tasked with shielding your goal post from an onslaught of incoming penalty balls. With dynamic graphics and immersive gameplay, this game replicates the adrenaline rush of being on a real football field. Test your reflexes and agility as you intercept the shots and keep your goal clean.
How to Play
The controls for Mini Goalkeeper are very intuitive. Use your finger to swipe across the screen, directing your goalie to block the soccer balls kicked by the computer. Your performance is gauged by how many balls you successfully deflect. Remember, quick reflexes are vital here!
Tips and Tricks
Practice makes perfect in Mini Goalkeeper! The more you play, the better you become at predicting the ball's trajectory. Also, swift finger movements will enhance your reflex speed significantly. Always remain alert for sudden changes in ball direction.
Features
Responsive Controls: Control your goalkeeper with simple swipe actions.
Vibrant Graphics: The game boasts colorful visuals that give life to every kick.
Skill Enhancement: Improves hand-eye coordination as you maneuver the goalie.
Addictive Gameplay: The challenge intensifies as you progress, making it hard to put down.
What are the best online games?