Merge the Numbers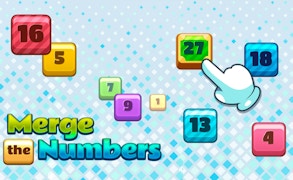 Merge the Numbers
Welcome to the mesmerizing world of Merge the Numbers, a realm where brain games intersect with math games, combining cognitive challenges with captivating fun. Whether you're a seasoned puzzle enthusiast or someone who's just stepping onto the gaming platform, Merge the Numbers is a numerical odyssey that's worth plunging into.
In this thrilling addition to the 2048 games genre, you're faced with an interactive grid where your primary goal is to merge matching numbers. However, it's not as easy as it sounds - every move, every decision matters in this high-stakes number arena.
What sets Merge the Numbers apart in the saturated market of number games is its impeccable balance of simplicity and mental stimulation. The rules are straightforward - merge identical numbers to create larger ones. Yet as you progress, the game unveils layers of complexity that keep you glued to your seat, anxiously anticipating your next move.
Merge the Numbers offers an immersive user interface and sound effects that add depth to your gaming experience. Each successful merge comes with a satisfying 'pop', intensifying your desire to score higher. This game's appeal lies in its ability to take simple math operations and transform them into a quest for high scores, making it one of the most riveting math games around.
In conclusion, whether you're looking to flex your mathematical muscles or unwind after a long day, Merge the Numbers brings an engaging spin on brain training. So why wait? Immerse yourself in one of 2021's most addictive puzzle games, and let your number-merging journey begin!
What are the best online games?