Merge 13 Game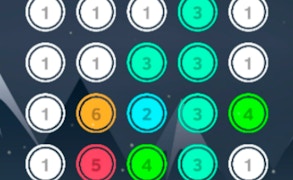 Merge 13 Game
If your brain gears are eager for a spin and you're itching for an addictively entertaining, yet challenging number-based impromptu workout, wrap your neurons around the beautifully crafted puzzle oeuvre that is Merge 13!
At its core, Merge 13 is an innovative mix of number games, brain-boosting puzzles, and mathematical conundrums that demand strategy and forethought. Using a simple principle of connecting numbers either diagonally or adjacently by tapping and dragging them, it swiftly transcends into a labyrinth of numerical combinations that will keep you on your toes.
Imagine being immersed in a Sudoku-esque arena, only with more dynamic rules where the battlefield constantly changes as you strive to create sequences of numerals. The challenge is to think ahead, anticipate the placement of numbers, and finesse your way through the grid to reach the all-important sum of 13. As a result, Merge 13 embarks on an adventure at the crossroads of math games and strategy escapades.
The brilliance of Merge 13 lies in its deceptively simple concept layered with escalating degrees of difficulty. Every session becomes a cognitive whirlwind that ultimately transforms into an addictive quest for higher scores and victory.
A delightful addendum to the realm of brain games, Merge 13 beautifully marries fun with a hearty mental challenge. Its engaging gameplay twined with mind-twisting puzzles will keep avid fans of number games smitten from their first tap-and-drag maneuver.
In conclusion, if you love flexing your mental muscles in a deceptively challenging arena packed with endless hours of fun – make no mistake; Merge 13 is unquestionably an indispensable addition to your gaming roster!
What are the best online games?