Memory Frames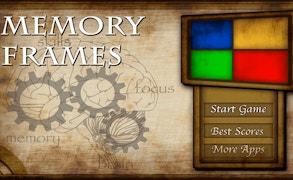 Memory Frames
Description
In the game Memory Frames, your cognitive abilities are put to the test. The game harnesses the primal elements of Earth, Wind, Fire, and Water to create intriguing patterns which you need to memorize. Each element is linked to its own unique color – Blu for Water, Yellow for Earth, Green for Wind, and Red for Fire. The pattern gets more complex as you progress through the game, providing an increasing challenge for your memory.
How to play
To play Memory Frames, watch closely as the Elements push Frames in a certain sequence. Once they're done, it's your turn to repeat that exact pattern from memory. Each successful recall adds another frame to the sequence, ramping up the difficulty by 1 each round. Stay focused and try to achieve the highest score possible!
Tips and Tricks
Remember that each Element is associated with a particular color which can act as a helpful mnemonic. Consider repeating the color sequence out loud or in your head as you watch it appear. This auditory reinforcement can be incredibly useful when memorizing longer sequences.
Features
Astonishing graphics that are easy on the eyes.
Cool sound music that enhances gameplay experience.
An increasing difficulty level keeps the game challenging over time.
A perfect brain exerciser suitable for all family members.
A leaderboard system allowing players to compare their scores and compete with others.
What are the best online games?