Math Test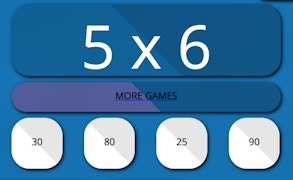 Math Test
If you're a fan of puzzle games, particularly ones that gear your brain towards numerical mastery, then the HTML5 game, Math Test will be a rediscovery to your gaming adventure. This game is an amalgamation of math games, number games, and brain games all rolled into one thrilling package. Perfect for both kids and adults alike, it's the ideal brain test to stimulate logical thinking and fast calculation skills.
Within just 60 seconds, Math Test takes you on a mind-bending journey where you have to answer as many multiplication problems as possible. The concept is simple but don't be fooled! As the clock ticks away mercilessly, every second becomes a battle against time. It's not just about getting the answers right - it's about getting them fast! This high-intensity gameplay makes it not just one of the best math-themed learning games, but an engaging brain teaser that leaves you wanting more.
The game tests your mathematical prowess to its limits while simultaneously training your brain to think quickly under pressure. With each rapid-fire question, Math Test challenges you to go beyond your comfort zone and pushes your mental agility to its peak. Every round is a new opportunity to improve on your last score, making the replayability factor incredibly addictive.
In conclusion, Math Test offers an engaging environment for math lovers and those looking to flex their mental muscle in an exciting gaming format. It's fast-paced, challenging, and above all else – fun! So if you're ready for an exciting mix of gaming and learning wrapped in a race against time, then Math Test couldn't be more perfect.
Remember: The clock is not on your side in this game; so think fast, act faster, and score highest in this delightful mix of math puzzles, number crunching brain teasers and learning fun!
What are the best online games?