Match Adventure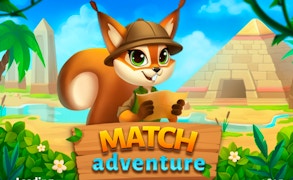 Match Adventure
Dive deep into the whimsical world of Match Adventure, a delightful mash-up of animal-games and match-3-games that captivates with its vibrant graphics, engaging storyline, and cleverly crafted puzzles. Embark on an enchanting journey filled with fun challenges, cunning adversaries, and mysterious worlds alongside your courageous companion, Gemmy the squirrel!
Your mission? Assist Gemmy in her pursuits to uncover the truth behind her brother Johnny's disappearance. Amidst a forest now in ruins, you're embroiled in an enticing narrative that keeps you on your toes. You're not just matching whimsical icons here - you're unraveling intriguing stories, breaking down barriers, and piecing clues together.
The game's unique blend of puzzle mechanics and heartwarming animal-themed narrative sets it apart from your average match-3 adventure. Each level offers a different challenge that requires strategy and puzzle-solving prowess to conquer. Despite the challenges, Match Adventure's intuitive controls make it easy for gamers of all experience levels to jump right in.
As you traverse through various worlds with Gemmy, you'll encounter otherworldly characters with their own distinctive tales. While engagement with these characters enriches the experience, it's ultimately your strategic mind and lightning-fast reflexes that will decide the fate of Johnny.
Match Adventure beautifully combines elements from both animal games and match-3 games – offering a refreshing spin to the well-loved genres. If you fancy yourself an aficionado of either genre or simply enjoy captivating storylines complemented by challenging puzzles, then this game beckons for your attention.
What are the best online games?