Marvelous Hot Wheels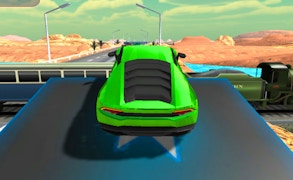 Marvelous Hot Wheels
Welcome to the turbo-charged world of Marvelous Hot Wheels, a game that perfectly combines the thrill of car games, the precision necessary for driving games, and the adrenaline rush synonymous with simulator games. This racing utopia not just tests your speed but also your driving skills, firmly placing it among top-notch Skill Games.
The concept of Marvelous Hot Wheels is nothing short of a genius. It's not just about traditional car racing, it catapults you into an alternate reality where stunts and hot wheels races reign supreme. The game takes you on an unforgettable journey, transporting you to the dizzying realms of stunt driving and thrilling hot wheel races.
The standout feature has undoubtedly got to be its modern highway train car stunt. This feature is masterfully designed, making it one of the best and most popular train vs car stunt riding 3D game experiences available out there. The exhilarating real train vs car jumping simulation game element is an absolute adrenaline-pumping adventure.
As a player, you don't just maneuver a vehicle around a course; you transform into the crazy stunt driver on city traffic roads. You also get to explore your daring side as a hot wheels stunt rider taking on daunting challenges and executing defying feats. It's not merely a game but a realistic journey that tests your limits and pushes your boundaries.
In conclusion, with Marvelous Hot Wheels, you're signing up for much more than just another driving simulator game; you're enlisting for an unforgettable escapade filled with incredible stunts, high-speed chases, and breathtaking race-offs. So strap in tight because this ride promises to be one hell of a ride!
What are the best online games?