Martial Arts: Fighter Duel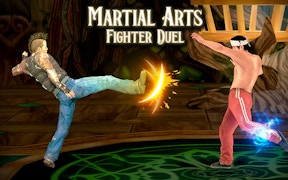 Martial Arts: Fighter Duel
Welcome to our latest review where we delve into the fiery world of Martial Arts: Fighter Duel. If you're a fan of boxing games or battle games, this adrenaline-pumping title will have you hooked.
In Martial Arts: Fighter Duel, you're not just tossed into the ring; you're thrust into an international duel tournament of martial arts where you'll duke it out with 17 masters from various corners of the globe. Each character brings a unique fighting style and culture to the arena, turning each duel into an exhilarating display of prowess and technique.
If solo gaming is your forte, Arcade mode is perfect for going head-to-head with AI opponents. But if friendly competition is more your speed, then don your gloves and jump into the 2 Player mode. Here, proving your superiority in battle games takes on a new twist as you challenge your friends to see who can master their martial art first.
One key feature setting this game apart from other 2 player games is its adjustable difficulty level. Within the settings section, players are afforded the luxury to tailor their gaming experience - whether they want a casual sparring session or a brutal gauntlet that tests every ounce of their skill.
The variety in gameplay coupled with its cultural richness makes Martial Arts: Fighter Duel stand out in the overcrowded genre of fighting games. It's not just about exchanging blows – it's about understanding your opponents' moves and countering them strategically.
If you're ready for raw, unadulterated action that pushes your fighting instincts to their limits—Martial Arts: Fighter Duel is waiting in the arena. Brace yourself; it's time to show what you're made of!
What are the best online games?