Mahjongg Dimensions Candy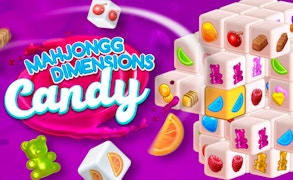 Mahjongg Dimensions Candy
Welcome to the mouth-wateringly engaging world of Mahjongg Dimensions Candy, a delightful spin-off from the realm of classic mahjong games. This is no ordinary matching game, it's a sugary delight that will undoubtedly have your brain buzzing and your sweet tooth craving for more.
As a puzzle game enthusiast, get ready to submerge yourself in this effervescent playground where traditional Mahjong tiles take the back seat and candy takes the throne. Imagine, instead of matching typical Mahjong tiles, you're tasked to find matching candies in 3D! This scrumptious twist adds an extra layer of thrill and challenge to your regular Mahjong games.
In Mahjongg Dimensions Candy, every level transports you into a realm dripping with gummy bears, lollipops and more, making this one of the most visually appealing brain games out there. Not only does it test your memory and quick thinking, but also keeps you entertained with its lush graphical design and captivating sound effects. Capturing your attention doesn't just stop there - it also tempts your taste buds with a decadent array of digital confectionery!
Let's not forget the most essential factor that makes this game stand out - its thought-provoking nature. Engage your neurons in this race against time as you rotate the 3D candy puzzle to find those tricky matches. Stay sharp as the levels progress rapidly from facile to nerve-rackingly complex - truly embodying the characteristics of top-notch brain games.
Mahjongg Dimensions Candy not only brings a unique twist to classic Mahjong games but also enhances your cognitive skills while satisfying your love for sweets (sans calories!). This game proves that puzzles can indeed be sweet - in more ways than one!
What are the best online games?
TAGS