Mahjong Farm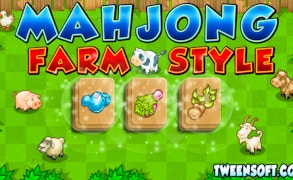 Mahjong Farm
Description
Welcome to the enchanting world of Mahjong Farm! The game orbits around a captivating farm-themed journey where you must pair identical tiles to remove them from the deck. The catch is that you can only match tiles that are on the topmost layer of a stack. Complete all matches before time runs out to triumph over each challenge.
How to play
To start playing, simply click on two identical tiles to match and clear them off the board. However, remember that only those tiles can be selected that are on top and have no others laying on them. As you progress, you'll need to move faster and strategize better to beat the ticking clock.
Tips and Tricks
Planning ahead is crucial in Mahjong Farm. Take a moment before making any move to scan the entire board for potential matches. Remember, your target is not just matching tiles but doing so efficiently within the limited timeframe.
Features
Enthralling farm-themed mahjong game.
Challenging time-based levels ensuring enticing gameplay.
Soothing background music enhancing the atmosphere of tranquility.
User-friendly interface for a smooth gaming experience.
What are the best online games?
Tags