Mahjong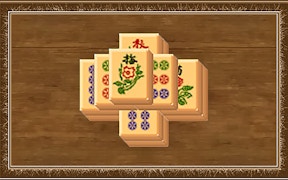 Mahjong
One of the most popular games to come out from China is Mahjong which to this day is played in a number of countries across the world. While people may be separated by a variety of factors, a way that we can communicate with each other is through activities like games. There are ways to play it in groups or solo and this version has you working against the game. It's a 2D puzzle game involving a lot of colorful tiles with some interesting designs. Whether or not you can read the characters that are imprinted on them, you can still appreciate their distinct appearance.
About Mahjong
Mahjong is a game where you can go at your own pace but there is a slight tension to it. It comes off as a somewhat peaceful game but there's still a lot going on in terms of the challenge and randomization that keeps things interesting every time you decide to play. It gets to the point where the goal gets closer and closer until it gets to the point where each time you're aiming for a new personal best. The more you play it here, the more you'll be tempted to try it out in real life and with other players.
How to Play
Though Mahjong can have different sets of rules depending on the style, this version is tailored to competitive solo play. The game starts you off with a pile of 144 tiles that are stacked in a pyramid fashion with your perspective looking down from the top. Your goal is to clear the board by making pairs of matching tiles. You have a time limit of 10 minutes as well as a counter that shows how many matches are possible based on what's shown. The game ends when you clear the board, the timer runs out, or you run out of moves.
You can play the entire game with just the mouse and clicking. To make a match, you need to click on one tile to select it and then click on a matching tile to pair them and remove them from the board. Keep in mind that tiles can only be paired if they're not blocked by other tiles to the left and right sides. In terms of matching, only tiles with the exact same design can be paired. The only exceptions are special tiles which are marked by having a different base color as well as a number. These tiles can be paired with any other special tile of the same color.
Tips and Tricks
Since there's a time limit involved, you need to think and work quickly. Immediately start by scanning the tiles surrounding the outsides of each level of the pyramid. You want to balance uncovering more tiles with shrinking the layers. Always prioritize matches that remove tiles on the edges so that you can immediately put them into play. Minimize the number of moves you take to make matches with tiles that are on the same layer.
Game Details
Developer: Arkadium
Platforms: Web Browser, iOS, and Android
Languages: English
Gameplay Footage
FAQs
What does the name stand for?
Literally translated, Mahjong means Sparrows in English. This would make sense since there are tiles with sparrows scattered throughout the game
Does this game improve intellect?
Based on research observing children who took Mahjong classes for over a year, their IQ scores were shown to have improved.
Games similar to Mahjong
With its style of play, this game can fit into multiple categories but GamePix has also created its very own called Mahjong Games. If you search through this part of the game library, you can find titles like Monsterjong, Butterfly Connect, and Fruit Link.
What are the best online games?
TAGS