Mad Taxi Driver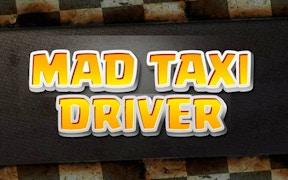 Mad Taxi Driver
If your heart beats for the thrill of speed, and your fingers itch for some pulse-pounding action, then Mad Taxi Driver is the perfect fit for you. It's not just a game, it's a wild ride that pushes the boundaries of car games, and blends it perfectly with elements from driving games and Skill Games.
Mad Taxi Driver is an intense HTML5 racing game that tests your limits and challenges you to dare the impossible. The heart of the game lies in its relentless drive towards adrenaline-induced fun. The life of the taxi driver hangs in balance as you zigzag through bustling lanes and narrow alleys picking up fuel and nitro along the way. The mantra here is simple – Drive or die!
The gameplay is a perfect blend of simplicity and depth, making it appealing to both casual gamers looking for a quick adrenaline rush, and hardcore gamers seeking a more profound driving experience. The challenge lies not just in driving fast but in mastering control under pressure. And this where Mad Taxi Driver stands out amongst other Skill Games.
In every race to survival, nitro boosts your chances dramatically. But remember - as much as nitro fuels your ride, so does actual fuel. Balance between speed and survival keeps you on your toes throughout this nerve-wracking journey. This mix of strategy and chaos undoubtedly makes Mad Taxi Driver one of the best HTML5 racing games out there.
Buckle up fellow gamers! It's time to chase the horizon with Mad Taxi Driver.
What are the best online games?