Mad Racing-Hill Climb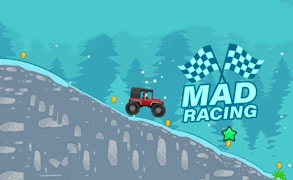 Mad Racing-Hill Climb
Description
Embark on an adrenaline-filled off-road adventure in the thrilling game, Mad Racing: Hill Climb. This game will challenge your driving skills as you traverse different hilly terrains and tough driving scenarios. With 15 engaging levels, each with varying difficulty, the game provides a perfect mix of fun and challenge. It's not just about speed, it's about balance, precision, and timely use of your brakes and accelerator. Fuel up and get ready for some off-roading madness!
How to play
The controls of Mad Racing: Hill Climb are quite simple but require intuitive usage. Use the accelerator button to increase speed and climb hills. The brake button, on the other hand, is for slowing down or stopping the vehicle. Your task is to find the perfect balance between these two controls while navigating through various terrains. Remember, collecting fuel cans and money during your ride is crucial for progress.
Tips and Tricks
Avoid hasty manoeuvres! Sudden starts or braking can tip your car over in this tricky terrain. The key to winning Mad Racing: Hill Climb lies in managing speed effectively without capsizing. Sharp corners require slow speeds while steep slopes may need a little more power. Don't forget to collect as many fuel cans and coins as you can!
Features
Fifteen unique levels each with different difficulty level.
Straightforward controls with just accelerator and brakes.
Vibrant graphics that give a true off-roading vibe.
Engaging gameplay that tests speed control and precision.
What are the best online games?