Mad City Matrix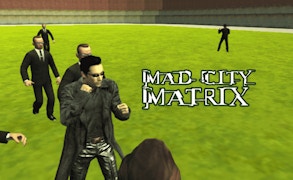 Mad City Matrix
Description
In Mad City Matrix, you are thrust into a vast, open-world city overrun by relentless agents. Engage in high-octane combat using explosive punches and an arsenal of powerful weapons. Each level is a race against time; defeat the onslaught of agents before the clock runs down to secure victory. This action-packed fighting game demands strategic thinking, swift reflexes, and sheer tenacity.
How to Play
Control your character using the directional keys, launch your attacks with the space bar. Explore the city to find and obtain more powerful weapons. Keep track of your time as each level has a time limit. Defeat all agents within this period to progress further into the game. Remember, strategy is as important as direct combat.
Tips and Tricks
Don't let the agents corner you; keep moving and make use of the entire city space. Switch between weapons based on the situation for optimal damage. Pay close attention to the clock - surviving isn't enough, you must also outrun time.
Features
Vast open-world gameplay set in an urban cityscape.
Wide range of powerful weapons to discover and utilize.
Epic hand-to-hand combat scenarios with relentless AI agents.
Tense, nail-biting rounds where players race against time.
What are the best online games?
Tags