Love Pins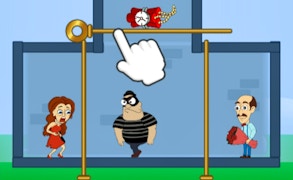 Love Pins
If you're an ardent fan of brain games, your search ends here! Allow me to introduce you to a delightful piece of digital entertainment - Love Pins. This isn't just one of those ordinary fun games; it's incredibly engaging and stands tall amongst the ranks of highly addictive games.
In Love Pins, you're not merely playing a game - you're crafting an epic love story, one puzzle at a time. A couple is yearning to meet, but alas, numerous roadblocks are strewn in their path! Only your clever mind can navigate these tricky trials and reunite the lovers.
The concept might sound simple, but the challenges are anything but. Each level presents a fresh labyrinth of problems that will have your neurons firing in all directions. Your arsenal comprises various tools to vanquish the resident bad guys and clear the roadblocks. But be warned – it's going to require some serious brainpower!
The beauty of Love Pins resides not only in its addictive gameplay but also in its ability to keep you guessing. Herein lies an incandescent blend of strategy and puzzle-solving that will ensure countless hours spent with eyes glued to the screen and fingers tapping relentlessly.
In conclusion, if you're seeking a game that effectively combines mind-boggling puzzles with entertaining gameplay elements, then Love Pins is undoubtedly worth a try. It's more than just another puzzle game; it's an adventure for your mind. So gear up, roll up your sleeves and let the ingenious journey begin!
What are the best online games?