Love Pin 3D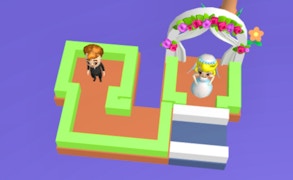 Love Pin 3D
Step into the challenging yet fun-filled world of Love Pin 3D, a unique blend of brain-tickling elements and hyper-casual gameplay that makes for an engaging addition to your collection of fun games. This captivating puzzle game seizes your attention right from the get-go, immersing you into an exciting storyline where your bride has been kidnapped by heinous villains, and it's upon you to hatch an escape plan.
The game thrives on your ability to strategize and make clever decisions in a series of hilarious levels, each posing unique challenges that demand you to find your bride while avoiding the bad guys. It's a testing ground for your intellect and problem-solving skills, reinforcing why this game is a gem in the genre of brain games.
Your character in Love Pin 3D is defined as a smart man - one who can decide the order to pull out bolts that barricade his way towards his love. The game mechanics are nicely crafted around this theme, using Hyper Casual Games principles that are easy to follow but hard to master, thereby appealing to both amateurs and seasoned gamers alike.
What stands out about Love Pin 3D is how it balances its complex puzzle structure with comical undertones. The visuals are engaging whilst the overall ambiance teases a sense of adventure every step of the way, creating an environment ripe for fun games. This game is not just about flexing your intellectual muscles; it's also about the thrill of pursuit and elation in uniting with your captured beloved.
In conclusion, Love Pin 3D offers gaming enthusiasts a refreshing escape from traditional puzzle games. It's designed meticulously to ensure hours of fun-filled entertainment while relentlessly pushing you towards becoming better strategists. A must-have for those seeking brilliant brain games, Love Pin 3D has rightly earned its position in the realm of addictively good fun games.
What are the best online games?