Love Balls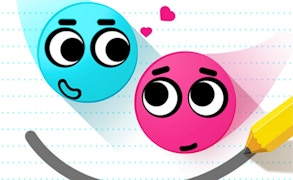 Love Balls
Unleash your problem-solving prowess as you dive into the world of Love Balls, a captivating physics-based Puzzle Game. This isn't just one of your run-of-the-mill skill games, rather it pushes the boundaries by combining elements of ball games and brain training.
Brought to life in sparkling HTML5 format, Love Balls brings to your screen an extraordinary blend of whimsical characters and challenging conundrums. The aim? To mastermind a pathway that unites two star-crossed spherical figures. Play on PC or mobile for an immersive gaming experience that sharpens your cognitive abilities while providing hours of entertainment.
In the heart of this game lies the ingenious draw the lines physics puzzle. Deceptively simple yet profoundly puzzling, players are tasked with using their intellect to sketch lines which guide these lovelorn spheres towards each other. You'll soon discover that beneath its playful exterior lies a game which actively challenges your IQ levels. With every new stage, you embark on a fresh adventure filled with complex obstacles and brain-boggling twists.
Fellow gamers, if you're seeking a potent combination of fun and mental stimulation, look no further than Love Balls. Not only does this game demand strategy and skilled precision, it's also sure to tickle your funny bone with its endearing setup and quirky character designs.
Embrace this brain physics game, enjoy the thrill it presents as each level becomes more challenging than the last. So put on your thinking cap, fire up Love Balls and experience a refreshing take on conventional ball games. Don't just play; think, learn, triumph!
What are the best online games?
TAGS