Little Girl and the Bear Hidden Stars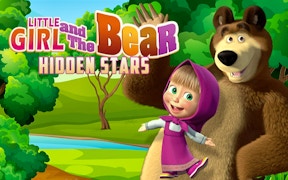 Little Girl and the Bear Hidden Stars
Welcome to the world of sparkling stars and tender companionship in the Little Girl and the Bear Hidden Stars. Catering to the wide genre of Games for Kids and Games for Girls, this enchanting tale aims not just to entertain, but also to exercise young minds with its intriguing hidden object quests.
Dive into a vibrant world where the spirit of childhood intertwines with magical elements. This game is more than just an animal adventure; it's a journey through six delightful levels, each teeming with 10 elusive stars waiting to be found. The excitement of locating these hidden gems is beautifully contrasted by the calming presence of the bear companion adding an extra layer of depth to this engaging narrative.
The Little Girl and the Bear Hidden Stars will introduce children to a realm where their sharp vision is rewarded. The notion of a timer tucked away in the lower-right corner adds a thrilling twist to this otherwise serene exploration, pushing young adventurers to their limits while still keeping them entertained.
The players are drawn into a captivating story set against lovely backdrops teeming with hidden wonders. Designed as easy-to-use point-and-click game, it reinforces fine motor skills in kids while they get engrossed in a fun-filled star search. But, let's not forget about our furry friend who enriches this journey with his endearing presence.
This game transcends conventional categories, merging genres such as animal games and hidden object games. A world where every click can reveal shimmering stars or new adventures is waiting for you! So why wait? Dust off your explorer's hat, grab your mouse and gear up for an enthralling mission, because it's time to play Little Girl and the Bear Hidden Stars.
What are the best online games?