Laps Fuse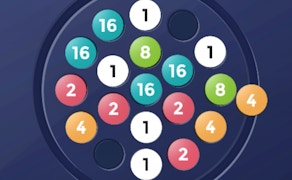 Laps Fuse
Unleash your mental prowess with the Laps Fuse, a game that pushes your cognitive abilities to the limit. This isn't your run-of-the-mill matching game. No, Laps Fuse takes it up a notch; it's a reaction arcade matching experience that marries swift reflexes with sharp intellect in an intoxicating dance of skill and strategy.
In its core mechanics, Laps Fuse transcends from ordinary number games, extending beyond simple addition or subtraction. The real challenge is in the timely tapping and accurate shooting of balls into the right place. Get three of the same numbers, fuse them together, and you're one step closer to victory. But beware, success comes to those who can keep pace with the game's relentless speed.
Navigate through this highly-addictive maze and you'll find yourself constantly caught between making rash decisions under pressure and taking the time to calculate your next move. It's these fascinating moments that elevate Laps Fuse from other brain games.
The beauty of Laps Fuse lies in its simplicity. It's easy to pick up, but incredibly hard to master – a testament to its well-crafted gameplay dynamics. Aesthetically pleasing graphics combined with an immersive soundtrack add an extra layer of enjoyment, keeping you engaged as you strive to survive longer each round.
So if you're yearning for a different kind of brain exercise or just looking for something fun and challenging to pass the time, give Laps Fuse a try. But be warned: this game does not merely fuse numbers – it fuses entertainment and cognitive training in a way that might make it hard for you to put down!
Come experience the thrill of Laps Fuse. Flex your mental muscles as you navigate through this unique blend of reaction arcade matching madness!
What are the best online games?
TAGS