Lamborghini Drift Simulator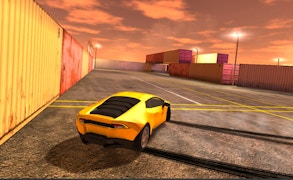 Lamborghini Drift Simulator
Feel the adrenaline rush through your veins as you journey into another realm of speed and precision with the Lamborghini Drift Simulator. As one of the most prestigious titles in the car games segment, it promises an experience that is not just about sheer acceleration but also about mastering the fine art of drifting.
Designed around a realistic physics engine, this simulator game offers an immersive experience that feels incredibly close to real-life driving. It's not just another title to add to your collection of driving games; it's an investment in your growth as a virtual drifter, pushing limits and breaking boundaries like never before.
Dive into this world where every curve comes with a challenge, every drift is an opportunity to hone your skills, and every second counts. A particular joy for fanatics of drifting games, this simulator offers each player an opportunity to feel like a professional drifter within the high-octane world of Lamborghini.
The Lamborghini Drift Simulator isn't merely a game; it's a passion project that boasts remarkably authentic car dynamics. The cutting-edge realism doesn't stop at the action on the track - even the collisions are astoundingly lifelike, making you cringe every time you bump into something.
In conclusion, if you have been seeking a title that goes beyond typical simulator games, look no further than Lamborghini Drift Simulator. It's a visceral experience that brings you closer to becoming not just a driver but a legendary drifter behind those flaming wheels.
What are the best online games?