LA Car Parking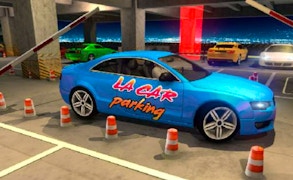 LA Car Parking
Unleash the thrill-seeker within you with LA Car Parking, one of the most exciting entries in the domain of car games and driving games. This isn't just your average parking simulator - it's a high-octane race against time, precision, and patience.
Imagine yourself behind the wheel, navigating through labyrinthine parking lots and narrow multilevel parking structures. Each level is a pulse-pounding puzzle studded with hairpin turns, vertiginous heights, and confining spaces that will test your mettle as a virtual driver.
The controls are intuitive and responsive. Whether you choose to control your ride with arrow keys or the WASD setup, you'll appreciate the fluidity with which your car responds. Anticipate and react to each twist and turn, proving to yourself that you have what it takes to be an ace driver in this stimulating world of parking games.
LA Car Parking's gameplay is simple - park your car in a designated spot without damaging it. But don't be fooled by its apparent simplicity! The real fun lies in mastering the art of maneuvering your vehicle around obstacles, threading through tight spots, and completing each level flawlessly under time pressure.
This game offers an engaging distraction from conventional race car games by focusing on precision over speed. Every successful maneuver becomes a triumph; every level completed - a testament to your improving driving skills.
To sum it up: if you're looking for a riveting combination of adrenaline-fueled excitement and brain-teasing challenges wrapped up in one neatly designed package, then LA Car Parking should zoom right to the top of your gaming bucket list.
What are the best online games?