Knots Master 3D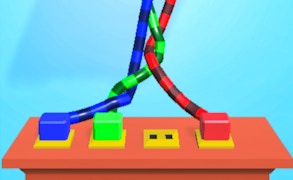 Knots Master 3D
If you are a fan of the brain games, addictive games, and hyper casual games, prepare to get ensnared in the enthralling world of Knots Master 3D. A fun, addictive hyper-casual puzzle game, Knots Master 3D will challenge your mind and engage your strategic problem-solving skills to untangle and connect wires in intricate 3D puzzles.
The premise of the game is seemingly simple: untangle and connect the wires. Yet it's this deceptive simplicity that sets Knots Master 3D apart from other puzzle games. Each level presents a tangled mess that you must strategize to unravel. The feeling of accomplishment that comes when you see a perfectly straight wire is incredibly satisfying, similar to completing a jigsaw or solving a Rubix cube.
One of the best brain games on the market, Knots Master 3D engages you cognitively and emotionally. As you progress through levels, increasing complexity will test your patience, strategy and problem-solving skills, making it an ideal pick among addictive games.
A standout in the realm of hyper casual games, Knots Master 3D's sleek design and engaging gameplay make it hard to put down. Whether you're looking for a quick brain exercise or an extended cognitive workout, this game delivers.
In conclusion, if you're passionate about challenging your mind while having fun at the same time, then Knots Master 3D is for you. With its perfect blend of simplicity and complexity, it holds its ground as one of the most appealing puzzle games. Be forewarned though; once caught in its intricate web of tangled wires and levels, escape is unlikely!
What are the best online games?