Klondike Solitaire Game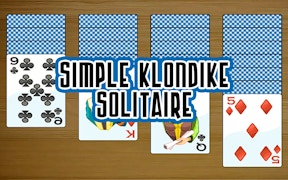 Klondike Solitaire Game
Delve into the heart-stopping blend of concentration, strategy, and triumph with the ultimate in classic card games: Klondike Solitaire. This masterpiece sets itself apart from the generic crowd of solitaire games, delivering an unbeatable fusion of classic gameplay mechanics and modern UI aesthetics that will keep your fingers busy and mind enthralled.
The game's main challenge? Simple—Build up four foundations by suit, from Ace to King. But don't let that simplicity fool you. It's not just a game, it's a cerebral assault course that will test your planning skills and patience in equal measure. Threading each weave of this intricate tapestry are pulsing sinews of strategy every player needs to master, making Klondike Solitaire an addictive journey of skillful maneuvering through endless challenges.
In comparison with other card games you may find in the digital marketplace, Klondike Solitaire Game shines like a diamond among pebbles - it's beautiful graphics, compelling progression system combined with enthralling gameplay, make it a must-try for any lover of the genre. Beyond its glittering facade lies a surprisingly deep experience that rewards tactical thinking and patient strategy.
The seamless interface takes no time to learn but guarantees countless hours of joy as players lay down cards on tableau piles in descending order (from King to Ace), effectively creating a perfect balance between accessibility for beginners and depth for seasoned solitaire veterans.
In conclusion, Klondike Solitaire Game is an entrancing voyage through the subtleties of patience and resolve where every move counts. Brush up your strategies and dive in—one game is all it takes to be hooked.
Your turn awaits!
What are the best online games?
TAGS