Jumpero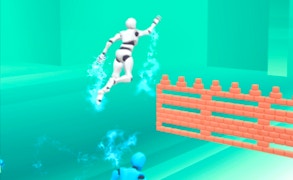 Jumpero
Step into the spellbinding world of Jumpero, a captivating fusion of running games, flying games, and skill games. Whether you're a seasoned gamer or a casual player on the lookout for an exciting new gaming distraction, this is one hyper-casual game that is bound to keep you hooked for hours on end.
Jumpero invites you into its gravity-defying universe, magnetizing your attention from the get-go with its immersive gameplay. Dreamt of bounding over walls without the confines of gravitational pull? This is one dream that materializes in Jumpero's virtual playground, serving up a realm where impossible leaps are just another step in the game.
The game's standout feature – its judicious blend of running and flying mechanics – catapults it into the moreish category of hyper-casual games. Its artfully designed challenges will put your skills to the ultimate test, yet dole out satisfying rewards that stoke your ambition to scale higher. Strategic hurdles and crafty obstacles embedded in Jumpero demand finesse and agility, making this game a true embodiment of skill-based gameplay.
In conclusion, Jumpero is not just a game; it's an experience - an exhilarating escapade into a magical realm where every leap catapults you further into excitement. With this unique hybrid of running and flying games, Jumpero has indeed carved out its niche in the arcade scene as an irresistible inclusion to any gamer's roster. It's time to jump high, fly higher with Jumpero!
What are the best online games?