Juicy Run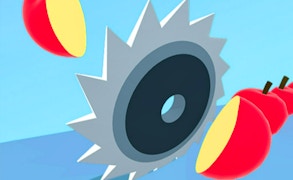 Juicy Run
Step into the world of Juicy Run, a thrilling title in the category of action-based running games. Daring, dynamic, and chock-full of delicious chaos, this game will have you slicing and dicing your way to an exhilarating high score faster than you can say "fruit salad"!
Juicy Run is a must-try for enthusiasts of sword games. The core mechanic is innovative: a toothed gear that unleashes shadows to help you navigate through a veritable cornucopia of colorful fruits. Click and hold - patience pays off as your shadowy allies carve a path through the fruity fray. Get ready for a veritable waterfall of vibrant, splashing juices as you hack and slash your way through each level.
The intensity level is always cranked up to eleven in this gem among fun games. Every second counts as you sprint, slice, and savor the thrill of the chase. You'll find yourself pitting your reflexes against time in this exhilarating fruit massacre. Hold onto your hats, gamers - with Juicy Run, action is not just promised; it's virtually guaranteed.
In conclusion, there's no denying it: Juicy Run is the juiciest fruit in the action gaming orchard. Whether you're a running game addict or a sword-swinging aficionado, you're certain to find something tantalizing in this tantalizing combo of tension and pastime. So buckle up, gamers! Get set for an unforgettable ride brimming with excitement at every turn with Juicy Run.
What are the best online games?