Jigsaw Puzzles Classic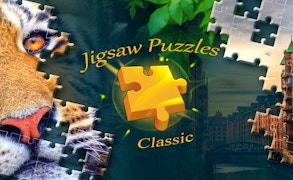 Jigsaw Puzzles Classic
If you've been on the hunt for the ultimate family game that promises to entertain while enhancing cognitive skills, the search ends here. Step into the fun-filled, challenging world of Jigsaw Puzzles Classic.
As a perfect blend of entertainment and brain activity, Jigsaw Puzzles Classic is so much more than just a game. It's a journey. A journey that takes you through the beautifully designed and diverse landscapes of animals, architecture, arts and nature. This is not just one of those ordinary Games for Kids, but a game that even adults can't resist.
This exceptional offering from Playtouch seamlessly blends real-life texture with an immersive digital interface, making it one of the most engaging and entertaining brain games. The high resolution pictures add an enchanting visual charm to the puzzles, promising an addictive gaming experience - there's truly a puzzle for everyone!
The beauty of Jigsaw Puzzles Classic lies not only in its ability to spark your intellect but also its potential to help you unwind. Swap stress with relaxation as you navigate through vibrant HD images, piece by piece. Herein lies its secret- Jigsaw Puzzles Classic manages to stimulate your mind and pacify it simultaneously.
Gather your loved ones for this intriguing test of wits or conquer puzzles in solitude. Either way, you're in for delightful moments filled with challenge and triumphs alike. Indeed, Jigsaw Puzzles Classic is not just a game- it's an experience.
In conclusion, whether you are a puzzle enthusiast or an occasional gamer looking for a fun way to boost your mental agility, Jigsaw Puzzles Classic won't disappoint!
What are the best online games?