Jigsaw Puzzle: Sunsets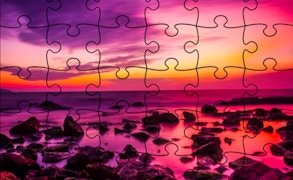 Jigsaw Puzzle: Sunsets
Welcome to the enchanting world of Jigsaw Puzzle: Sunsets, a delightful fusion of brain games and sunsets that sets the stage for countless hours of immersive puzzle-solving fun. This game effortlessly blends the beauty of nature's most exquisite spectacle with a cleverly-designed puzzle framework that stimulates your mental agility.
The allure of Jigsaw Puzzle: Sunsets lies in its breathtaking images. With 16 variegated pictures that capture the elusive enchantment of sunsets, this game guarantees an enthralling visual journey. Each image unravels a unique panorama that corresponds with an equally stimulating puzzle, truly making it an indulgence for both nature enthusiasts and ardent puzzle solvers.
Beyond the stunning visuals though, lies a seriously engaging brain game. Jigsaw Puzzle: Sunsets is not merely about piecing together beautiful images. It's about strategizing, planning and testing your cognitive abilities in a way that's subtly challenging yet highly entertaining. As one slices through each level, solving these puzzles becomes more than just a leisure activity; it evolves into an invigorating brain exercise that keeps you hooked from start to finish.
It is also perfectly suited as a family game, offering endless shared moments of fun and collaboration. Whether it's a serene Sunday afternoon or a late-night bonding session, families can come together to unravel each sunset-laden image while also sharpening their problem-solving skills.
In conclusion, Jigsaw Puzzle: Sunsets serves as an exemplary testament to how puzzle games have evolved over the years, combining aesthetic pleasure with intellectual stimulation to deliver a memorable gaming experience. With its captivating visuals and challenging puzzles, it truly stands out as an invigorating addition to your brain games collection.
What are the best online games?