Italia Jigsaw Puzzle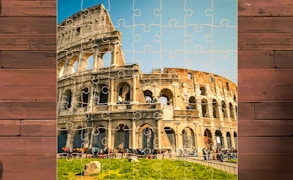 Italia Jigsaw Puzzle
Delve into the epic realm of jigsaw puzzles with Italia Jigsaw Puzzle, an engaging and invigorating way to keep your little ones occupied and their minds active. This game is not just an ordinary puzzle but a delightfully challenging and rewarding odyssey for those who are always on the quest for new and exhilarating brain games.
The beauty of Italia Jigsaw Puzzle lies in its simplicity combined with the right level of complexity to keep things interesting. If your kids have a penchant for puzzles, this can be one of the most enchanting games for kids. Designed carefully and thoughtfully, it doesn't just give puzzle fans a superb jigsaw puzzle experience but also helps in nourishing their mental agility.
What makes Italia Jigsaw Puzzle unique is its three distinct modes - easy, medium and hard; each mode offering a different degree of challenge catering to varied skill levels. Whether you're looking for a laid-back experience or want to test your mettle, each mode has something different to offer. Additionally, there is no time limit which means everyone can enjoy this game at their own pace without any stress or rush.
The simplicity of Italia Jigsaw Puzzle is endearing yet deceiving as it requires strategic thinking and focus which makes it one of the most absorbing brain games out there. From honing cognitive skills to improving concentration levels, this game can be instrumental in children's mental growth.
In conclusion, if you are looking for something that's fun yet stimulating for your kids' grey matter, Italia Jigsaw Puzzle should top your list. It doesn't only impress with its design but also manages to deliver an unforgettable jigsaw puzzle experience that keeps you coming back for more! Rewarding, relaxing and enjoyable - that's Italia Jigsaw puzzle in a nutshell.
What are the best online games?