Indian Taxi 2020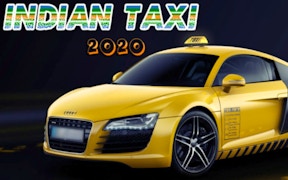 Indian Taxi 2020
Immerse yourself into the exhilarating world of Indian Taxi 2020, a potent mix of racing, driving, and parking all in one game. This fun-filled joyride will have you exploring the bustling streets of an Indian city from behind the wheel of a vibrant taxi. Rooted in the very heart of car games, this masterpiece amplifies the gaming experience by perfectly marrying the thrill of racing with the strategic skill required for parking.
In a fascinating blend of realism and simulation, Indian Taxi 2020 invites you to step into not just any car, but an iconic city taxi laden with cool interiors. If you've been yearning for fun games that allow you to take control, get ready to be satiated. You're not only behind the wheel driving across diverse landscapes, but also responsible for picking and dropping passengers at their designated points.
The immersive nature of this game doesn't stop at being a chauffeur. It tests your mettle as a driver through challenging parking scenarios that demand precision and patience - making it hands-down one of the best parking games out there. As if driving isn't fun enough, players can tailor their gaming experience by adjusting camera perspectives for better navigation – much like an interactive movie where YOU control how scenes unfold.
This is by no means an ordinary drive around town; rather, it's a wild ride meant to satiate your adrenaline-fueled craving. With Indian Taxi 2020, you're not just playing a game – you're living the life of an audacious taxi driver coursing through vibrant city streets filled with adventure at every bend. So gear up, fasten your seatbelt and ride into a world designed meticulously for thrill-seekers and lovers of driving games.
What are the best online games?