Impostor Rescue Online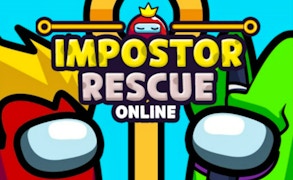 Impostor Rescue Online
Step into the thrilling world of Impostor Rescue Online, an addictive entry into the realm of brain games and fun games. This unique take on escape games will have you riveted from the start, pulling out all your strategic stops as you strive to rescue impostors on puzzle ships.
The game premises you with a crucial mission: To pull the pin out of a puzzle game and find the safest outlet for the impostor onboard. A wrong move could mean disaster, making it an adrenaline-fueled experience that will surely get your neurons firing. As you navigate through complex puzzles to save your comrades and unlock other skins, remember - only the smartest can survive.
Impostor Rescue Online starts off easy, gently coaxing your brain into its rhythm. But don't be fooled. As you maneuver through higher levels, the puzzles increase in complexity, challenging you to flex your cognizant muscles like never before.
This game is not just a test of strategic cunning; it's also a test of nerve. Pulling the correct pin under pressure is no small feat and serves up a bracing mix of tension and exhilaration. The more you advance through the game's intricate puzzle ships, the more grey matter you'll need to exploit.
In conclusion, this escape adventure is sure to stimulate those seeking a challenge. With its engaging narrative, intellectually stimulating puzzles, and high-stakes gameplay, Impostor Rescue Online is an exceptional choice for fans of brain games, puzzles, and thrilling escape games. It's time to tap into your inner hero – are you ready to rescue?
What are the best online games?