Impostor Rescue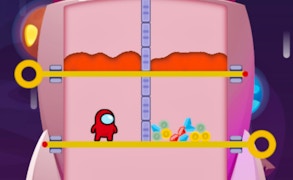 Impostor Rescue
Unleash your inner detective with Impostor Rescue, a riveting puzzle game that melds the thrills of Hyper Casual Games with the stimulating challenges of brain games. This cosmic adventure thrusts you into an exhilarating quest, where strategizing your moves is the key to prosperity and survival.
In Impostor Rescue, you assume the role of a lone entity, navigating uncharted space and contending with untrustworthy crew members. Each level unfurls a new challenge; whether it's collecting treasures or rescuing distressed heroes, your wit is your savior. The gameplay is uncomplicated yet undeniably enthralling — a testament to its categorization as a Hyper Casual Game.
Your mission: devise ingenious strategies to pull the pins and eliminate potential threats, all while ensuring the safety of your hero. It's about more than just mindlessly pulling pins; it demands intuitive thinking and nimble decision-making. And remember — in this brutal galactic realm, trust no one else but yourself.
The real beauty lies in its level design: each one unique and specifically designed to test the limits of your brain. There's no time limit, no life limit — just you against an array of space impostors in what's arguably one of the best brain games out there.
Impostor Rescue delivers an unforgettable blend of casual gaming and cerebral challenge. Offering many challenging puzzles, it's addictive and easy-to-grasp gameplay hooks you from the first pin pull. So strap in, put on your thinking cap, and brace yourself for an outer space ride filled with intrigue, excitement, and plenty of brain-flexing puzzles.
What are the best online games?