Impostor Hook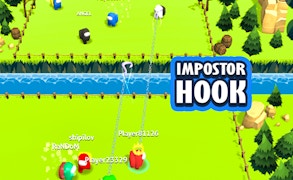 Impostor Hook
Welcome to our latest .io genre game review. Today, we'll be diving into the intriguing world of Impostor Hook, a game that sees players skilfully wielding a hook chain to battle their enemies with tactics that would make even seasoned gamers break a sweat.
Impostor Hook pushes the boundaries of traditional Skill Games, adding an engaging twist to the genre by forcing players to think strategically and quickly. Failing to do so might lead you into being ensnared by your opponent's chain, leading to a punishing wait of 2 seconds which in the world of Impostor Hook, could mean the difference between victory and defeat.
The game's mechanics are as captivating as they come. After guiding your character onto the battlefield, he unleashes his hook chain in an automatic move that's as swift as it is deadly. Hitting an Impostor scores you points but miss and you're left vulnerable for a counter-attack.
The variety of characters available for unlock ramps up the interest level. With 15 different Impostors on offer, each with their unique abilities and power-ups available on scoring points, this feature keeps you hooked (pun intended) to the game.
You can play all impostor games for free at meyagames.com which further adds weightage to its appeal. This cool offering caters perfectly to those who revel in fast-paced battle games, demanding quick reflexes and strategic planning.
In conclusion, whether you're a fan of .io games, skill games or just love good old-fashioned battle games - Impostor Hook is bound to keep you entertained with its exciting gameplay, diverse characters and thrilling battles. So grab your hook chain and jump into this gripping adventure.
What are the best online games?
Tags