Imposter Space Puzzle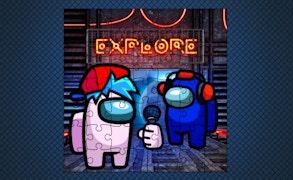 Imposter Space Puzzle
Step into the cosmos and power up your neurons with Imposter Space Puzzle, your ultimate destination for top-notch brain games and fun games. A seamless fusion of puzzle jigsaw games, this free online game will turn you into an intergalactic detective, setting your mind on a thrilling roller-coaster through six challenging puzzles.
As you delve deeper into the intriguing world of Imposter Space Puzzle, you'll find yourself navigating through a series of unique jigsaw puzzles. Starting from the first, you're tasked with meticulously piecing together intricate image fragments. Your reward? Unveiling an immersive new realm with every solved jigsaw, drawing you ever closer to the grand finale.
The genius behind Imposter Space Puzzle lies in its brilliant three-tiered difficulty system. Seamlessly accommodating both novices and puzzle veterans alike, it offers three modes for each picture: Easy, Medium, and Hard. Whether you're a casual gamer looking for some light-hearted fun games or a dedicated puzzle solver seeking a rigorous brain challenge, this versatile platform has got you covered.
Imposter Space Puzzle is more than just an ordinary gaming spree—it's an epic cerebral voyage designed to tickle your grey matter in ways you've never imagined. With its captivating graphics, engaging gameplay, and thought-provoking puzzles, it's undeniably one of the best brain games out there—a perfect blend of entertainment and mental stimulation that promises endless hours of interstellar fun.
In conclusion, if there's one puzzle game that deserves to top your list this season, it's Imposter Space Puzzle. Don't miss out on this stellar brain workout—blast off into space and put your puzzle solving skills to the ultimate test today!
What are the best online games?