Iceland Limo Taxi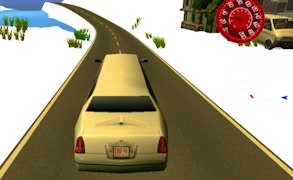 Iceland Limo Taxi
Welcome to the exhilarating world of Iceland Limo Taxi, a standout gem in the realm of car games and driving games. This thrilling ride is not just about getting from point A to point B. It's about mastering challenging terrains, showcasing your driving prowess, and becoming an expert Limousine Taxi Car driver.
The game thrusts you into the heart of Iceland's picturesque but daunting mountains as a limo taxi driver. It is no ordinary driving task; precarious steep paths and sharp turns make for an adrenaline-pumping adventure. This is where the game truly shines by integrating elements of skill games. It tests your driving abilities to the limit, demanding precision, focus, and strategic handling of the car using WASD or Arrow keys.
Iceland Limo Taxi's gameplay transcends typical driving games by offering you a truly immersive experience. You're no mere spectator; you are an integral part of this vibrant world. Your passengers depend on you to safely navigate these treacherous terrains and enjoy their visit. Ensuring their safety through this fascinating roller-coaster ride imbues a sense of responsibility that's both engrossing and satisfying.
The game's artistry lies in its realistic landscapes that evoke a sublime sense of beauty intertwined with danger. The juxtaposition between Iceland's serene ambiance and its perilous paths creates a stimulating setting that keeps players hooked to their screens.
This is not just a game; it's a journey full of adventure, thrill, skillful maneuvering, set amidst the stunning backdrop of Icelandic mountains. Whether you're a die-hard fan of car games or someone looking for an electrifying round of skill games, Iceland Limo Taxi should be right up your alley!
What are the best online games?