Ice Man 3D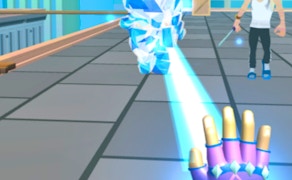 Ice Man 3D
Enter the icy world of Ice Man 3D, a freezing journey that plunges you into a world of frigid fights and frosty foes. As one of the most enticing new entries into the realm of battle games, Ice Man 3D takes the term 'cool' to an entirely new level.
Ice Man 3D belongs to a unique genre that combines elements from both gangster games and skill games. As the icy superhero, your mission is clear: safeguard the metropolis from lawless characters aiming to sow chaos. The combo mechanics are like a frost-covered ballet, offering a satisfying experience for those who find joy in mastering intricate systems.
The thrill of unleashing frozen blasts at your opponents, shattering them into countless shards, is unmatched. But be warned, while your icy powers are formidable, they're not invincible. It's not just about button-mashing but about honing your skills and knowing when to strike with precision. You'll need more than just brute force to succeed; you'll need strategy and timing, characteristics befitting all exceptional skill games.
The landscapes ooze with style reflective of classic gangster games, but with a chilly twist. The metropolis is gritty yet beautiful, submerged in an endless winter that leaves everything coated in a dusting of snow. From sky-high skyscrapers to back-alley brawls, every location serves as the perfect backdrop for intense combat.
In conclusion, Ice Man 3D is an ice-capade into exhilarating combat that showcases what truly great battle games can be. So come along and feel the chill on your skin as you journey through this icy adventure. Be prepared to sharpen your skills as you take on ruthless villains in this winter wonderland of mayhem.
If you love gangster aesthetics, skillful gameplay and intense battles then don't let this game slip through your fingers like melting ice.
What are the best online games?