Hungry Warriors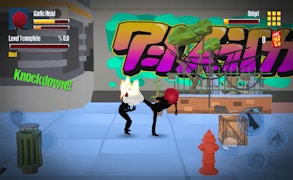 Hungry Warriors
It's time to lace up your virtual gloves, and step into the chaotic concrete battleground of Hungry Warriors. This gripping addition to the battle-games and boxing-games genre seamlessly marries intense combat with strategic depth. It's not just about punching your way through! It's a fight for survival as much as it's a battle for dominance.
The streets within Hungry Warriors are teeming with fierce adversaries, all waiting to test your fighting prowess. You stride into this grim gauntlet with nothing but your grit and primal instincts. The game masterfully pumps up the adrenaline rush, making each encounter feel like an epic finale in a prominent boxing movie.
The controls of this street fighting extravaganza are intuitive and finely crafted. You feel every jab, cross, hook, and uppercut – each land like an orchestral crescendo reverberating through your fingertips. This sensation is made more pronounced by the game's emphatic sound design.
What sets Hungry Warriors apart from other clattering clash games is its emphasis on strategy. Whom you fight, where you take the fight to, which combos - it all factors in. Your opponents aren't mere punching bags; they adapt, learn and retaliate fiercely. The joy of victory is sweeter because it doesn't just represent physical supremacy, but tactical superiority as well.
Hungry Warriors is an absorbing odyssey through brutal streets, where only the most cunning fighters will survive. It combines quick reflexes common in battle-games, with rapid strategic thinking typical of the best boxing-games, creating a unique gaming experience that grips you from start to finish.
What are the best online games?
Tags