Hungry Box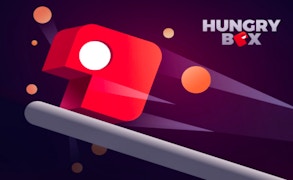 Hungry Box
Description
In Hungry Box, your objective is to feed a box with a voracious appetite within a time limit of 10 seconds. However, the twist is - every time the box eats, the timer resets itself. The game boasts a plethora of hidden box characters including delicious fruits, tantalizing food items, quirky robots, spooky ghosts, and heroic superheroes. Go ahead and challenge yourself to unlock them all!
How to play
To control the Hungry Box, focus on the moving platform. To alter the length of this platform, click and hold on the screen. The real challenge is not only making it run but also jump to fetch those irresistible foods. But remember: act fast, your time is precious!
Tips & Tricks
Quick thinking and swift actions are key in Hungry Box. Pay attention to the rhythm of moving platforms and timing your jumps just perfectly will significantly boost your score. And don't neglect those distant foods - they're worth the risk!
Features
Vivacious arcade gameplay.
Variety of hidden box characters to unlock.
Fast-paced hyper-casual game with complex timing mechanics.
Innovative 'feed-the-box' concept for limitless fun.
What are the best online games?