Holiday Mahjong Dimensions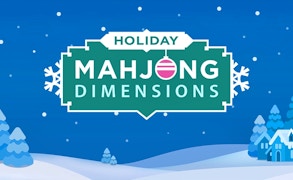 Holiday Mahjong Dimensions
Looking to flex your problem-solving skills this festive season? Holiday Mahjong Dimensions brings a unique blend of traditional mahjong games and Christmas spirit to your screen, extending the holiday cheer with every click you make. This game is a perfect pick for those searching for mahjong games with an enjoyable, seasonal twist.
As you dive into the yuletide atmosphere of this game, you will be greeted with a fresh set of levels featuring everything beloved about Christmas. Each level comes alive with heartwarming Christmas songs setting the perfect gaming mood, accompanied by beautifully designed tiles adorned with depictions of Christmas trees, sparkling Christmas lights, and delightful Christmas ornaments.
The gameplay in Holiday Mahjong Dimensions follows the tried-and-true formula of classic mahjong games - matching pairs of tiles to clear the board. However, what sets it apart is its innovative 3D layout. This not only adds another dimension to your gaming experience but also invites you to strategize and consider every move carefully. With dimensions turning and tiles spinning, everything culminates in a brain-teasing saga that employs both depth perception and strategy.
Saving the best for last, this game is one of those rare Christmas games that are enchanting without being overly complicated. Whether you're a newbie drawn in by the holiday theme or a seasoned player looking for your next mahjong challenge, Holiday Mahjong Dimensions is sure to captivate you from the start.
Packaged with the charm of traditional mahjong games and infused with a hearty dose of Christmas spirit, Holiday Mahjong Dimensions is more than just another puzzle game - it's an experience that combines joyous festivities and challenging gameplay into an unforgettable holiday treat.
What are the best online games?