Hill Climber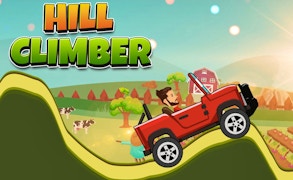 Hill Climber
Gather around, devoted petrolheads, as we dive pedal-first into the high-octane world of Hill Climber, a fresh and adrenaline-fueled entrant in the genre of car games and driving games. Let's buckle up and brace ourselves for a wild ride as we review this game that tinkers with your automotive obsession in new and compelling ways.
At its heart, Hill Climber is a hill-climbing game that takes us back to the daunting escapades of offroad driving. However, it's not the journey but the ever-changing terrain that keeps your engine revving. Tactical control on acceleration becomes your best friend to avoid accidents on the serpentine and bumpy roads that this game throws at you.
This game doesn't just test your driving skills but challenges your strategic timing and throttle management. As you traverse through arduous landscapes trying to cover maximum distance, each playthrough becomes a thrilling chase against your previous record. Unpredictable bumps keep you on the edge of your seat, making every moment an exciting guess game of 'how far can I go?'
The catchphrase 'Good Luck' has never felt more appropriate than here. The way you handle your acceleration amidst these unpredictable terrains might just make you the reigning king or queen of Hill Climber. It revs up an age-old gaming concept with an added layer of challenge, weaving together both action-packed gameplay and top-tier strategy.
In conclusion, Hill Climber is not just another entrant in the realm of car games or driving games. It's an extraordinary amalgamation of accurate physics-based mechanics and suspense-filled gameplay that will satisfy both casual gamers looking for some quick fun, and hardcore racing fans seeking a new test for their skills. Good luck indeed, fellow racers! Your next record is waiting to be set!
What are the best online games?
Tags