Heroes of Match 3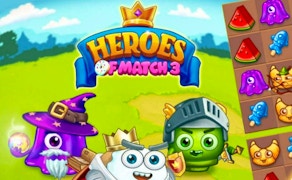 Heroes of Match 3
Get ready to journey into the enchanting realm of Heroes of Match 3, a visually stunning and highly addictive puzzle game. Set against the backdrop of a medieval candy kingdom, this delightful gaming experience combines the fun of match 3 games with the thrill of battle games, making it an unparalleled standalone in the genre.
In Heroes of Match 3, you'll embark on a sweet adventure as you strive to help King Donuttan The Third reclaim his throne. Along your journey, you'll encounter charming characters and be served thousands of delectable levels filled with exciting mechanics guaranteed to satisfy your gaming hunger.
The tactical challenges will test and improve your three-in-a-row puzzle skills; matched only by the capacity to challenge other players in high-stake tournaments. What sets Heroes of Match 3 apart is its successful blend of a gripping storyline, seamless gameplay, and eye-pleasing graphics that are sure to captivate both casual gamers and seasoned puzzle enthusiasts.
The game is replete with daily tasks that offer endless bonuses ensuring that every play rewards you generously. It also features an innovative cross-platform progression system that automatically saves your progress, allowing you to continue your sweet conquest on any device.
Heroes of Match 3 is not just a game; it's an immersive medieval playground that offers festive tournaments and cups to determine who stands at the pinnacle of match-3 mastery. The best part? This unique joyride is completely free!
In conclusion, if you're seeking a rewarding blend between match-3 puzzles and strategic battles in a beautiful setting, look no further than Heroes of Match 3. This game proves that sometimes the most remarkable heroes come in the sweetest packages.
What are the best online games?