HelixJump.io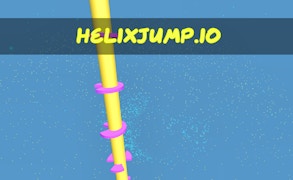 HelixJump.io
Welcome to the dynamic, electrifying, and engaging world of HelixJump.io, a game that seamlessly marries the categories of ball games, skill games, and hyper casual games. This review highlights why HelixJump.io is worth your precious gaming time.
In HelixJump.io, your main task is to expertly navigate a free-falling ball through a complex, spiraling labyrinth. The catch? You must avoid coming in contact with the dreaded red tiles scattered throughout the helix maze. A thrilling endeavor that demands skill, finesse, and patience.
This game elevates ball games beyond the conventional pitch and alleyway. This isn't about goal-scoring or pin-dropping precision; it's an epic journey down an endless tower of vibrant twists and suspenseful turns. Each helical spin ramps up the adrenaline and pushes your boundary of concentration.
Skill Games enthusiasts will instantly appreciate the nuanced challenges this game presents at every turn. Evading the red tiles is no mean feat; it requires timely maneuvers, quick reflexes, and strategic foresight. Success in HelixJump.io isn't about chance; it's about keen observation and articulate execution - exactly what makes skill-based gaming so rewarding.
HelixJump.io stands tall in the field of hyper casual games. Its intuitive interface, coupled with vivid graphics and captivating sound effects, makes for an immersive gaming experience that's easy to pick up but hard to put down. It has distilled simplicity into its gameplay yet retained enough complexity to keep you coming back for more.
In summary, HelixJump.io is an addictive fusion of genres that delivers impressive gameplay depth within a hyper-casual packaging. Whether you're a ball games aficionado or a skill games devotee looking for their next challenge, grab your mouse or touchscreen now - because you won't want to miss out on this stunning hyper-casual spectacle. Happy playing!
What are the best online games?