Head Sports! Football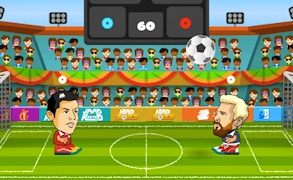 Head Sports! Football
Stepping into the vibrant realm of soccer games, the next big thrill in ball sports is here with Head Sports! Football. Sweeping the world of football games and 2 player games with an electrifying new twist, this game offers a unique blend of excitement and strategies that would keep any sports enthusiast hooked.
A thrilling duel between two characters, each vying for top scores, forms the crux of the gameplay. The intriguing option to either play solo or challenge a friend in a 2-player mode adds an extra layer of competitiveness to it. The game allows you to tailor the players, courts, ball and time, lending an unprecedented level of customization for any sports enthusiast diving into the world of ball games.
In Head Sports! Football, bonuses play a crucial role in tipping the scales in your favor. From giving your character an adrenaline-pumping speed boost, inflating their size to towering proportions or freezing your opponent in their tracks, these bonuses can be real game-changers.
The aim? To secure the highest score within the permitted time limit and outsmart your adversary! Showcasing immersive gameplay mechanics coupled with a fiercely competitive scoring system, this notable addition to football and soccer games assures non-stop action right until the final whistle.
With its creative approach to character customization and inventive use of bonuses within its fast-paced multiplayer setup, Head Sports! Football stands out as an unmissable gem amongst contemporary 2 player games. Whether you're a die-hard fan of soccer games or just someone seeking a fun time with buddies over some football games – Head Sports! Football promises a gaming experience worthy of every minute!
+
What are the best online games?